Are you asking yourself where can I find a reliable and experienced pool table movers near me? Herewith the SOLO® Pool Table Movers, you have the best option when it comes to professional billiard table services.
Professional and experienced services by The SOLO® Pool Table Movers of Palm Bay
Guaranteed by a national organization
We are backed by the only organization in the industry that offers 7 days per week support for our customers with the most technologically advanced systems in use today. Call our professionals to get a price to move your pool table or if you only have general questions. Your satisfaction is what has made us the largest and most reliable professional company in the industry.

Professional Pool Table Movers in Palm Bay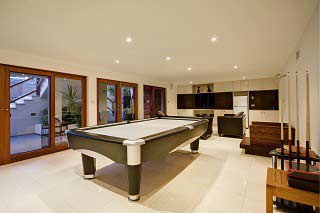 The service we offer here at the Palm Bay Pool Table Movers includes professional tear down, transportation and pool table setup with expert leveling, recovering with the existing material is possible if it is in good condition.
We handle every aspect of your pool table move, billiard table disassembly and expert installations, moves to storage and more.
If you are not in Palm Bay but are asking yourself this question; where could I find pool table movers near me? We have good news for you! We also service Melbourne, Port St. John, Grant-Valkaria, Titusville, Sharpes, Cocoa, Rockledge, Whittier, Sebastian, Fellsmere, Vero Beach, Fort Pierce, Port St. Lucie, Stuart, Palm City, Jupiter, Boca Raton, Orlando, Kissimmee, Deltona, Sebring and more.
If you have not found the right pool table for you, feel free to check out our listings which are posted by local sellers, also you can sell a pool table for free, if you have one that you want to exchange for a different one.
The SOLO® Pool Table Movers of Palm Bay can recover your pool table with new material for an additional cost. Guaranteed satisfaction and leveling on applicable pool tables. We handle a complete pool table moves from house to house and we service local businesses also.
If this is your first time buying a pool table, perhaps the most important thing to understand is what the will you end up spending in total. Sometimes you can find pool tables that are very inexpensive, most of the time this is because the sellers are trying to move or need the space before a certain period of time and this is a way to get rid of the pool table quickly.
We put together useful information so that you can understand the aspects involved in determining the cost to move a pool table. We advise that you go over the information before you commit to the pool table purchase.
Why you need to hire experienced pool table movers for your pool table service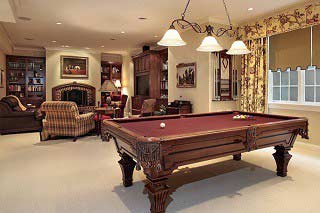 We move pool tables in homes, businesses and even garages! We handle every aspect of your pool table move, including proper teardown and a professional pool table setup.
Do you need to have a pool table repair taken care of? We can also help! The most common repair we take care of during installations is the pool table refelting with new cloth.
Our professional pool table movers team will make sure you are taken care of either it is a residential or commercial service. We are professionally trained in our area of expertise.
We will break down your table or move it from a storage facility, your garage or just another room in the house. If you need new flooring and need the pool table moved out of the way, do not try to move your pool table!
This can damage your pool table, property or worse, you can end up with a serious injury! Your billiard table has to be correctly disassembled before anyone attempts to move it.
Let us handle that 800 pound monster for you. Taking the table out of storage and need it put together? We will set up the pool table in a professional manner for you.
SOLO® Pool Table Installers are skilled in all types of pool table services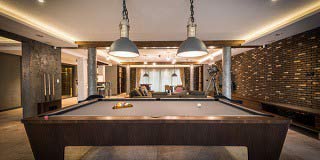 The SOLO® Palm Bay Pool Table Movers takes pride in offering professional pool table installations of new and used pool tables all over the area.
We come to your home, unpack if necessary, cover rails, seal the seams with beeswax and expertly level all 3 pieces of slates using precise leveling equipment.
Ask us about pool table refelting at the time of installation. The best time to take care of this is during the installation service.
We need to be prepared for the task so let us know. If it's helpful, feel free to check out our pool table room sizes chart to verify the pool table will properly fit in the room where you want the pool table setup.
Our pool table installers workmanship backed by a written guarantee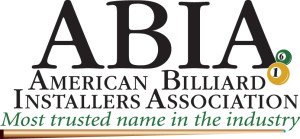 Palm Bay Pool Table Movers SOLO® is backed by a national organization. As Members of the ABIA, we are the only company in the area to offer you an exclusive 1-year service guarantee IN WRITING and issued by the American Billiard Installers Association.

This document is exclusive to our company. It covers any installation and/or leveling issues that may arise within a 12 month period after the service is complete.
The only written guarantee that covers the cloth we provide against any issues such as tears, rips or manufacturers' defects.
Experienced billiard table installers recommend refelting during setup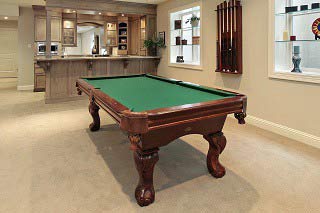 Most of our customers decide to recover with new felt at the time of installation. The reason for this is that the best time to refelt your billiard table is during installation.
Meaning that when we disassemble a pool table, we are careful enough to salvage the cloth so that it can be reused.
Note that felt on most used pool tables is not properly cared for by owners in the prior months of the sale. Taking this into consideration, the felt has to be inevitably replaced in the near future.
Give your pool table a New look by replacing the felt!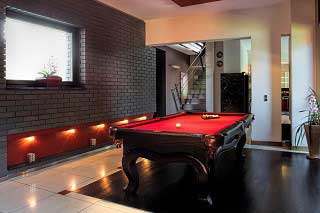 Putting a new cut of felt on your pool table will ensure you get the most enjoyment out of your table.
Also, this will give your table a new look and it will save you money in the long run.
Our customers can choose from over 30 different colors of pool table felt. We use the highest quality pool table cloth the industry has to offer at this time.
Our professional pool table installers work with standard woolen pool table cloth and tournament grade worsted materials as well.
Let us know in advance and we will have the material ready in your desired color. We handle everything involved with your pool table move from start to finish.
Professional pool table repairs
Is there a pool table repair that you need to be fixed? The leather pockets or plastic liners need replacement? The cushions are dead and need to be changed out? or maybe the felt needs replacement. We have you covered!
We also offer shuffleboard table services, contact us to get your quote and schedule your service, our shuffleboard movers can usually get you taken care of within a week!